The three main pillars ConocoPhillips Canada (CPC) supports are education, environment and safety.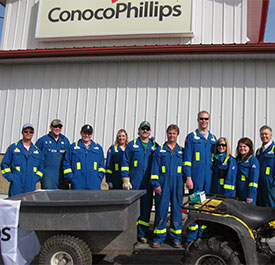 We also regularly fund social services, youth, health, arts, culture and civic programs. About 50 percent of our contributions go towards education.
Why We Give
Our decision to contribute to a particular organization or charity is based on six main criteria:
Relevance. Does your organization have a high impact on the community? Do you have values that are consistent with our business goals and objectives?
Capacity Building. Does your organization help to support the long-term vitality of the community?
Sustainability. Does your organization operate on a self-sustaining model?
Involvement. Does your organization create partnership opportunities? (i.e. volunteerism, sponsorships, etc.)?
Accountability. Can you provide measurable results?
Profile. How visible are you locally and/or regionally?
Grant Restrictions
We're unable to consider applications from:
Sectarian religious organizations, except accredited schools under the Education Matching and Community Service Programs.
Individuals.
Political organizations or candidates for political office.
Promotional marketing or advertising items.
Organizations without a charity or not-for-profit designation.
It is unlikely that we will consider applications from:
Alumni or fraternal associations.
Capital building programs, except for those that meet key community infrastructure needs.
Endowments, except for endowed chairs or professorships in selected universities.
Memberships in business, trade, or professional organizations.